Watch Sessions
Relive the greatest moments of the first Summit in Europe.
Watch full replays of the opening keynote and breakout sessions.
10 Atlassian Tool Hacks to Improve Team Culture
Sherif Mansour
Principal Product Manager, Atlassian
Your team is already running along with JIRA, Confluence, or HipChat enabling you to deliver awesome projects. But can they help you with team culture? How can you use the tools your team already has in place to cultivate an innovative and open culture?
This talk will cover different ways to use JIRA and Confluence to hack your team culture. We will give you tips on how to use Atlassian to make large organizations feel like small teams, build and maintain an innovative culture, and inject some fun and humor into your team - making your workplace feel a bit more enjoyable!
Presentation video
Presentation slides
Brick by Brick: Building Collaboration at The New York Times
Matthew Shadbolt
Director of Real Estate Products, The New York Times
Katherine McMahan
Project Manager, Real Estate Products, The New York Times
The New York Times has undergone enormous digital changes in recent years, especially in the Real Estate section. With innovative uses of Confluence and JIRA, including by a distributed development team in India, Finland, Romania, and New York, the NYT Real Estate team has helped the newsroom and sales teams align around a common purpose, and built experiences which have significantly grown both audience and revenue. Come hear the NYT Real Estate team share their journey, and how Confluence has been instrumental in connecting teams, sharing insights and delighting their readers.
Presentation video
Presentation slides
Bundeswehr Blueprint: A Collaboration Platform for the German Military
Nils Merkle
Captain, German Armed Forces
It's true – even the Bundeswehr uses Confluence to organize their work. In fact, they use it for a great deal of their collaboration, coordination, and communication. But convincing the German Armed Forces to go digital with their knowledge base was no easy feat. In this talk, Nils Merkle, Air Force Captain, will recount how a team of four Confluence evangelists promoted social collaboration in a hierarchical environment through tactics like phone support, on-site seminars, and biannual community meetings. Come hear Bundeswehr insights, use cases, and best practices that can help any organization maximize Confluence's potential. And, of course, some funny stories that came about along the way.
Presentation video
Presentation slides
Don't be Left Out: Tips for Working in a Remote Team
Adam Hynes
Senior Developer, Atlassian
Working with a team on the other side of the world can be a lonely, frustrating experience. But with the right attitude, practices, and tools, it still can be an effective way to build software with others. Hear from Atlassian developer, Adam Hynes on how he moved to the other side of the world and stayed productive (and sane) without changing teams.
Learn how he uses tools such as Floobits for real-time remote pairing, Confluence for white-boarding hard problems with distant teammates, and HipChat for asynchronous stand-ups to keep the team on the same page across timezones.
You'll come away with several remote working tips that'll set you up for success.
Presentation video
Presentation slides
How to Drive Confluence Adoption
John Wetenhall
Strategy & Operations Manager, Confluence, Atlassian
Do you want to bring your team closer together and improve collaboration throughout your company? Perhaps you see the value of implementing Confluence across every team for work and content collaboration, but your colleagues are stuck emailing files back and forth. John will show you four techniques to help drive adoption of Confluence across your organization that will build and scale your company culture at the same time. You'll learn practical ways to work more efficiently such as how to run better meetings and iterate on files without drowning in emails and really_long_file_names_JW.docx, plus fun ways to engage co-workers with intro blogs. Your colleagues will thank you for saving them from email and your boss will promote you for building company culture. (Promotion not guaranteed :) )
Presentation video
Presentation slides
Not Me, We. How Inclusive and Diverse Teams Represent the Future
Dom Price
Head of R&D and Work Futurist, Atlassian
Aubrey Blanche
Global Head of Diversity & Inclusion, Atlassian
Turns out, great minds don't always think alike. Teams created with an eye toward diversity–including different perspectives, experiences, and ways of solving problems–and brought together in inclusive environments, represent the future of innovation. But how?
In this talk, you'll find out. This session discusses the business and science of diverse, inclusive teams. But instead of focusing on theory and case studies, two different people will demonstrate the power of diverse thinking... live. That is, our presenters will identify potential solutions to real business challenges in real time, while you watch. You'll see diverse ways of thinking in action, and how they lead to more ideas, more effective collaboration, and better solutions.
Presentation video
Presentation slides
The Key to Great Teams: Understanding the Human Operating System
Stefan Knecht
Manager, it-economics GmbH
How do organizations become adaptive, agile, and resilient? What fosters trust and makes people feel safe to speak their minds? Stefan Knecht from it-economics – a 2016 Best Workplaces in Germany award recipient – say the master key lies in a social operating system used for over 300,000 years: the human operating system (OS H). Recent findings from behavioral, cognitive, and organizational sciences help us understand parts of this system – like what makes humans tick and how groups successfully form and perform. This talk will explain the idea behind OS H and teach you how you can employ the concept in your own organization to build trust, resiliency, adaptivity, etc. Come away with a solid understanding of social needs and the company dynamics you can help create to meet these needs. Even the best tools and technology will only get you part of the way to building world-class teams.
Presentation video
Presentation slides
The Team Playbook: A Recipe for Healthy Teams
Dom Price
Head of R&D and Work Futurist, Atlassian
Georgie Bottomley
Senior UX Research, Atlassian
The benefits of a high performing team are endless. They are autonomous, empowered, responsible and effective. At Atlassian, we've pioneered the Team Playbook, which is our way of scaling teams by getting smarter, not bigger, and driving a culture of continual improvement. Utilised by hundreds of teams within Atlassian, we've made our secret sauce not so secret. Don't come to this session for a lesson on theory...come to this session to hear the philosophies and principles of the Team Playbook from Dr. Dom, our internal team doctor, and insightful and practical stories from Georgie, one of our users of the Team Playbook. You'll leave this session invigorated, engaged and ready to take action.
Presentation video
Presentation slides
Top 5 Meeting Tips Made Possible by JIRA and Confluence
Mary Raleigh
Strategy & Operations Team Lead, Atlassian
John Wetenhall
Strategy & Operations Manager, Confluence, Atlassian
Meetings have become a necessary evil of corporate life. They are essential to working together as a team, but they can easily become a waste of time and leave attendees with no clear outcomes. In fact, the average employee wastes over 30 hours each month in unproductive meetings. John and Mary are meeting gurus who have facilitated everything from sprint planning meetings to all-day strategy sessions for executives. Whether you run meetings or just want to take back your calendar, you'll learn our tried and tested rules for effective meetings for both attendees and facilitators. Plus, discover 5 ways JIRA and Confluence help you take meetings from painful to productive.
Presentation video
Presentation slides
Trello and Atlassian: Powered-Up, Ready to go!
Rich Manalang
Partner Engineering Team Lead, Atlassian
Power-Up your Trello-fu with the new JIRA, Confluence, Bitbucket, and HipChat integrations. This talk will show the full power of Trello along with the Atlassian stack. Partner Engineering lead, Rich Manalang will show how a simple Trello board can be enhanced to support your Atlassian workflow needs from conception to planning and code to deployment while keeping everyone in the collaboration loop.
Presentation video
Presentation slides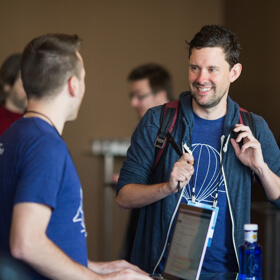 AtlasCamp Sessions
Get best practices and catch up with full session replays from our premier developer conference.
Watch now →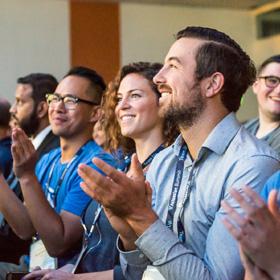 Atlassian Community
What did you think about the Summit sessions? Start or join a conversation in the Community.
Get started →
Stay tuned
Be the first to know about Atlassian live events and sign up for special announcements on when Atlassian is coming to a city near you.