Watch Sessions
Relive the greatest moments of the first Summit in Europe.
Watch full replays of the opening keynote and breakout sessions.
5 Simple Strategies for JIRA Service Desk Success
Greg Warner
Senior Technical Consultant, ServiceRocket
What's the hardest part about bringing in new software? Getting people at your company to actually use it. Join Greg Warner, a veteran of many successful launches, and learn about his time-honed five simple strategies that will make your JIRA Service Desk an overwhelming success. You'll learn how to provide project sponsors with an immediate return on investment, ensure you are delivering the highest value services first and open yourself to act on valuable customer feedback. Learn the session feeling ready to lead your business on an exciting new path for the role of IT.
Presentation video
Presentation slides
Agile Incident Response and Resolution in the World of Devops
Alex Solomon
CTO and Co-Founder, PagerDuty
Devops has transformed how teams build and run software: you build it, you own it! In this new Devops world, the methods of responding to and resolving incidents have changed dramatically. You no longer have a 24/7 NOC handling incident response; instead, developers and ops engineers must work closely together and go on-call to triage alerts and resolve incidents.
At the same time, with more applications and services moving to the cloud, the impact of major outages has increased. Most enterprises have multiple major incidents each month and lose over $100K in revenue and lost productivity per incident.
This session describes how to effectively manage the entire incident lifecycle end-to-end, helping teams lower the duration and frequency of outages. We will cover the following topics:
How to prepare and train your team up-front to respond to incidents quickly.
How to handle triaging large volumes of alerts, identify the severity of issues, and loop in the right people ASAP.
How to manage and run an incident effectively across multiple responders and stakeholders.
How to create a learning feedback loop in your incident lifecycle by conducting a blameless post-mortem.
Overall, we will cover people, process, and tools as they relate to the incident lifecycle. In terms of tooling, we will feature a best-of-breed toolchain from Atlassian, PagerDuty, and other modern innovative companies.
Presentation video
Presentation slides
Automation Awesomeness: Scaling JIRA Service Desk
Vincent Wong
Product Manager, Atlassian
At Atlassian, we believe in a simple motto - automate everything that can be automated and streamline everything that can't.
Join us on a journey into automation and demystify processes that allow you to supercharge JIRA Service Desk. From the automatic assigning of incidents to the correct team member, to resolving tickets once the linked JIRA software ticket is resolved -- discover how JIRA Service Desk scales with your business.
Let the product work for you, so your IT team can work on what matters.
Presentation video
Presentation slides
Building a Successful Service Culture: How Airbnb Elevates with JIRA Service Desk
Laurent Bordier
JIRA & Confluence Manager, Airbnb
Chris Arrington
Productivity Tools Manager, Airbnb
These are the pillars of Airbnb's core values:
Champion the mission
Be a host
Embrace the adventure
Be a cereal entrepreneur
The IT team set out to deliver a level of service that embraced these values and bring them to life. They called this project "Latitude": a solution that gives users the latitude - or freedom - to easily find the information and help they need. They practiced champion the mission by providing a self-help solution for the community; Host by listening and working closely with business teams to find excellent solutions; Embrace the adventure by offering insights about evolving methodologies, new tools, and processes; and being a cereal entrepreneur by providing automated self-service help based on individual client needs.
With the help of JIRA Service Desk, project "Latitude" saw these highlights one month after launch:
94% response SLA
5200 knowledge base article views
5% of articles deflecting ticket creation
4.9 of 5-star user satisfaction rating
In this session, Airbnb will describe the "Latitude" journey, how it opened up new ways to provide help and delivered results. We'll also talk about what's ahead.
Presentation video
Presentation slides
How HipChat Ships and Recovers Fast with DevOps Practices
Mickie Betz
Software Developer, Atlassian
HipChat operates a 'You Build It, You Run It' service model, where developers are responsible for building, testing, and operating their systems. While we have a high speed of development, things can break – but we also recover quickly. Learn about how we've integrated best practices within our planning, building, operating and learning processes to optimize for speed and efficiency but also mitigate, prepare for, and handle incidents.
The presenter will walk you through four steps for how to operate at a high speed of development and also prepare for any incident — planning, prevention, preparation and collecting feedback— and instruct you on how you can build these processes into your Atlasssian workflow (including JIRA Software, HipChat, Bitbucket, Confluence, Bamboo, and StatusPage).
Learn about:
Planning: How we use JIRA Software and Confluence to plan roadmaps and sync up with teams
Prevention: Best practices during code reviews and testing
Preparation: How we prepare for incidents with war games
Review: Collecting feedback, assessing incident causes and improving our processes
Come out of this session with a newfound understanding of how to use Atlassian products within your DevOps workflow!
Presentation video
Presentation slides
How the Telegraph Transitioned from Web Support to a DevOps Culture
Carol Johnson
IT Director, Telegraph Media Group
As a major news organisation, the Telegraph has a history of staying competitive to remain the number one news brand in the UK. So, how do you support a fast-moving organisation that needs to embrace digital and where change is imperative?
This presentation tells the story of how the Telegraph's web support team transitioned to a DevOps culture. It will look at how they moved from a team performing traditional website support and implementing ad-hoc releases & roll-back (you build - we support), to an organisation that now supports multiple CMS's, platforms, apps, a subscriptions channel and APIs (we build - we support). Come and learn more about the impact of changes in organisational structure, methodologies used, the need to remove boundaries and how failure can lead to ultimate success.
How Trade Desk Built a Connected Team of 100+ Service Agents
Swati Jain
VP, Professional Services, cPrime
Drew West
Sr. Director, Global Support and Business Intelligence, The Trade Desk
Speed and efficiency. They're focal points for every business discipline, and IT Operations & Support is no exception. These teams must be on the lookout for the next generation of tools and technology to streamline their systems and stay competitive.
Here are some of the many topics we'll cover in this talk:
Internal collaboration gaps between engineering and IT teams, and how to bridge them
Centralizing service operations management with self-service portals for internal employees and customers alike
Handoffs and metrics in a high volume (75K requests annually) and global support (over 100 service agents globally) context
Advanced analytics data for proactive process and product improvements
We'll also talk about the criteria for selecting Atlassian as your go-to platform, and how to integrate and automate business rules into service requests using the Atlassian ecosystem.
We hope you'll come away with a solid understanding of how to build, grow, and maintain a successful service operations .
Presentation video
Presentation slides
JIRA Service Desk for Customer Service (Featuring Intuit)
Vincent Wong
Product Manager, Atlassian
Jared Sutherland
Product Manager, Intuit
JIRA Service Desk is used across a variety of different teams from IT and operations, through to HR and finance. But can you guess what one of the biggest use cases for JIRA Service Desk is? Customer Service! Almost 50% of JIRA Service Desk customers use it primarily to support their external customers.
Come and learn how you can set up your company for success by following the best practices for running customer service, operations and development on the Atlassian stack. We'll also dive deep into the new features for customer service so you'll walk away with actionable tips and tricks you can try with your team!
We will go through:
Best practices on setting up an external customer focused customer portal with knowledge base support
Customising your branding and communication with your customers
Ways to enable your support and development team to work closer together
Tips and tricks from Intuit on using JIRA Service Desk for external customer support
Presentation video
Presentation slides
Modern Operations at Scale within Viasat – How to Structure Teams and Build Automated Toolsets
Chris Crocco
Lead Network Solutions Engineer, Viasat
Marty Jackson
Director, Office of the CTO, xMatters
As enterprises continue to transition their technology organizations to operate at higher velocity and break down barriers with DevOps transformations, they need to be able to respond to service disruptions and incidents quickly, and with minimal impact to the productivity of their teams. Learn how ViaSat — a global provider of satellite and wireless communications — securely connects businesses, governments, and military organizations to the Internet using structure, automated toolsets and teams. Join Marty Jackson, Director, Office of the CTO, xMatters and Chris Crocco, ViaSat's Network Solutions Engineer, to learn how the ViaSat team managed the integration of alerting, issue tracking and change and release management with JIRA Software, JIRA Service Desk, HipChat and xMatters into a complex IT ecosystem and drove the company's transition from an Operations to a DevOps-centric model of IT incident communications.
Presentation video
Presentation slides
Sink or Swim: How Incident Communication Keeps You Afloat
Scott Klein
Head of Product - StatusPage, Atlassian
Downtime is stressful. Don't let a lack of communication add extra weight to your issues.
Join Scott Klein, co-founder and head of product for StatusPage, as he shares best practices for communicating effectively during an incident. He'll offer tips for increasing communication efficiency, reducing ticket load, and how to use StatusPage alongside the rest of your Atlassian toolset. Finally, Scott will discuss the expert ingredients of an effective incident response team: pre-incident preparation and post-incident followup with affected users.
Presentation video
Presentation slides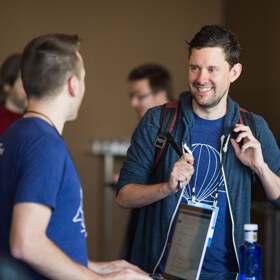 AtlasCamp Sessions
Get best practices and catch up with full session replays from our premier developer conference.
Watch now →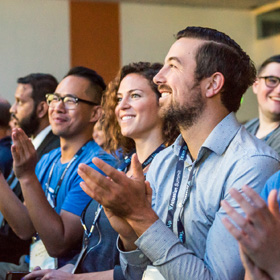 Atlassian Community
What did you think about the Summit sessions? Start or join a conversation in the Community.
Get started →
Stay tuned
Be the first to know about Atlassian live events and sign up for special announcements on when Atlassian is coming to a city near you.