Watch Sessions
Relive the greatest moments of the first Summit in Europe.
Watch full replays of the opening keynote and breakout sessions.
A Brave Journey in Merge Waters: How Paysafe Consolidated Their Atlassian Tools
Radostina Kavrakova
IT Product Support Manager, Paysafe Group plc
George Stoyanov
Senior Software Engineer & Project Leader, Nemetschek Bulgaria
After a large merger in mid-2015, Paysafe, a fintech company providing payment solutions worldwide, had several instances of Atlassian products spread across the globe. With 4 JIRA Software, 3 Confluence, 2 Bitbucket, 2 Bamboo and 2 HipChat server instances, our team made the bold decision to unify them into a single instance for each product. Further complicating the already daunting task were 6 active directories of users, a diverse set of admins, and different levels of organizational maturity across our development, product, and business teams. A year after we set sail, Paysafe now has a single production instance of the majority of these products, with little impact to users, no data loss, and improved performance. In this session, we will outline our journey into the uncharted waters of consolidation focusing on our 4 JIRA instances, as this was the most critical and challenging mission in our quest. Together with our Atlassian Solution Partner, Nemetschek Bulgaria, we will share tips and best practices on limiting downtime, eliminating the risk for loss of vital data, and the unification of user management.
Presentation video
Presentation slides
Be Prepared for Growth - Confluence at Thales
Jean-Christophe Mielnik
Technical Communities Management, Thales
Thales is a global technology leader for the aerospace, transport, defense, and security markets. With 64,000 employees in 56 countries, Thales has a unique capability to design and deploy equipment, systems, and services to meet the most complex security requirements. In the past two years, led by the vision of the engineering department, Confluence has become an official Thales platform aimed at servicing the entire organization. Thales has deployed the associated governance and change management functionality to improve robustness and performance, while preserving flexibility, as they consider moving to a Data Center solution. In this session, Thales will share their experience in moving from top-down to collaborative practices, while leveraging the power of Confluence Server. Thales will also share best practices your organization can use as you scale, including improving integrations to homegrown solutions, governing the platform, and supporting multiple business end users' demands.
Presentation video
Presentation slides
Building Trust for Adoption at Enterprise Scale
Frederic Ros
Head of Development Efficiency and Lifecycles, Amadeus
Hugo Questroy
Senior Manager, Software Development Engineering, Amadeus
Amadeus is the leader in technology solutions for the global travel and tourism industry. The Atlassian suite is integral to fostering collaboration, efficiency, and effectiveness among Amadeus' widely distributed teams. As a large company with a significant amount of existing homegrown tooling and processes, it was imperative for Amadeus to be able to integrate Atlassian products with existing tools to ease adoption and maximize overall return. Additionally, as they're mission-critical products to business, scalability, high availability, and resiliency across Atlassian products was imperative to fostering trust across the organization.
In this session, we will share how we built trust for our 14,000+ Amadeus employees in over 20 geographical locations, by improving efficiency, easing integration with existing solutions, and increasing the overall operability and scalability.
Presentation video
Presentation slides
Enterprise Ready - What's New in Data Center
Keshav Puttaswamy
Head of Product, Server, Atlassian
Data Center provides administrators with high availability, performance at scale, deployment flexibility and control when hosting Atlassian applications. Join us to learn about the improvements to Data Center's core technology, latest product updates and direction. Don't miss hearing what our customers have planned and are doing with Data Center!
Presentation video
Presentation slides
Evolving a Worldwide Customer Operations Center Using Atlassian
Norbert Kujbus
IT Applications Manager, CRM, National Instruments
National Instruments, a global leader in test, measurement, and control solutions, has grown its customer operations centers and their use of Atlassian across the world from 100K to 1M+ number of issues per year and from 80 to 500+ agents over the past six years. Atlassian has grown with the growth of their business, now allowing National Instruments to process over 3,000 emails daily using JIRA Service Desk Data Center.
In this session, National Instruments will share the story of its business growth and how Atlassian continues to support it. National Instruments will also share best practices and tips for some of the challenges your organization may face when scaling customer operations, particularly around performance, reporting, governance, and supporting infrastructure.
Presentation video
Presentation slides
How Atlassian Manages Risk and Compliance with JIRA Software and Confluence
George Totev
Head of Risk & Compliance, Atlassian
Traditional Governance, Risk & Compliance (GRC) tools are big, expensive, and challenging to manage and integrate. They typically require an army of people to implement and maintain. At Atlassian, we use the power and flexibility of JIRA Software and Confluence to manage our GRC for a low cost, while seamlessly integrating with our existing processes and teams. Join us if you manage risk and compliance, work in information security, conduct audits, or if you are just tired of chasing audit remediations. We will share best practices that organizations in all industries or geographic locations can leverage to manage their governance, risk & compliance needs.
Presentation video
Presentation slides
Scaling Agile with JIRA Software and Portfolio for JIRA
Dennis Struis
Product Owner JIRA, ABN AMRO
Rik de Valk
Product Owner, ABN AMRO
In 2015, ABN AMRO, one of the largest banks in the Netherlands, rolled out agile across their organization. Within a year and a half, ABN AMRO grew from over 100 to 7000 users, and they are now moving towards using JIRA Software Data Center. This growth greatly increased their system complexity, that included 65 administrators that had created over 65 issue types, 250 statuses, and 400 workflows.
In this session, ABN AMRO will share the process of introducing scaled agile to their organization, which includes identifying the impact on usability, gathering metrics, and improving system performance and maintenance. You can also learn about how Portfolio for JIRA is an integral part of scaling agile across an organization and which best practices you can apply to your own journey.
Presentation video
Presentation slides
Scaling IT Operations in a DevOps World
Paul Buffington
Principal Solution Engineer, Atlassian
Siloed IT and development organizations are becoming a thing of the past. If you are looking for ways to improve IT operations to support your dev teams, this talk is for you. Join Paul Buffington, Principal Solutions Engineer at Atlassian, as he shares ways to improve how IT teams work in a DevOps environment. We'll cover incident response to outages and and how to reduce resolution time. You'll see how a Service Catalog, Runbooks and Post Incident Reviews (PIRs) help unify these teams. ChatOps and automation are also key to success and topics for discussion. Finally we'll look at ways to create fast and continuous feedback.
Presentation video
Presentation slides
Simplicity at Scale - Growing Teams at Atlassian
Mat Lawrence
R&D Program Manager, Atlassian
What if I told you that large teams could still be nimble? It's a common fear that as teams grow they will lose their own speed and efficiency. But at Atlassian, we have developed some specific strategies to support one of the largest and quick-growing departments at Atlassian.
You will hear how we are keeping things simple as we grow by focusing on fostering trust, clarifying ownership, and encouraging effective collaboration. In addition to learning what tactics we use to coordinate cross-product strategy, development, and delivery, you will leave this session with ideas that your organization can use to gain understanding and visibility across your teams as they grow.
Presentation video
Presentation slides
The Four Principles of Atlassian Performance Tuning
Dan Hardiker
CTO, Adaptavist
There are typically four primary variables that influence the performance of an Atlassian application: users, application admins, add-on developers, and system administrators. Each plays a different role and its impact on performance can be profound at scale. Dan Hardiker, Chief Technical Officer at Adaptavist who's advised Fortune 500 companies on their Atlassian implementations, will share best practices and demonstrate how to use the process of "monitor, measure, mitigate" to identify key performance bottlenecks and provide data that your organization can use to optimize performance.
Presentation video
Presentation slides
AtlasCamp Sessions
Get best practices and catch up with full session replays from our premier developer conference.
Watch now →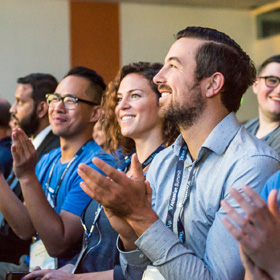 Atlassian Community
What did you think about the Summit sessions? Start or join a conversation in the Community.
Get started →
Stay tuned
Be the first to know about Atlassian live events and sign up for special announcements on when Atlassian is coming to a city near you.