Watch Sessions
Relive the greatest moments of the first Summit in Europe.
Watch full replays of the opening keynote and breakout sessions.
A Product Manager's Place in a DevOps World
Dave Meyer
Senior Product Manager, Atlassian
Today's world is a DevOps one, and as a Product Manager that means you're part of the dev team. As teams transition from building products to running services, you must adapt your role as teams embrace DevOps and create dedicated Site Reliability Engineering (SRE) teams.
Consider these questions:
What's your role during an incident?
How do you communicate to customers?
Are you incorporating reliability metrics into your product roadmap?
The good news is, you can contribute to running services just as much as building products. In this talk, learn how Product Managers on the JIRA team contribute to incident management and review, support a green build culture, plan for reliability, and roll out features and experiments in a services-first world.
Presentation video
Presentation slides
Black Belt Tips for JIRA Software
Nick Pellow
Development Manager JIRA Software, Atlassian
JIRA Software is an extremely flexible and powerful tool, which can be used in a variety of ways. As a 9-year Atlassian veteran, Nick Pellow will outline the innovative ways JIRA Software is being used within Atlassian, and what features our teams find most useful to enhance their processes.
I'll cover practical tips, such as how we run Scrum and Kanban, and how we've customized projects and boards to best plan, track, and ship software with the precision of a black-belt judo master.
Presentation video
Presentation slides
From Start-up to Grown-up – FlixBus's Journey with Trello + Atlassian
Daniel Krauss
Founder & CIO, FlixBus
FlixBus is Europe's largest intercity bus network. In order to maintain 150,000 daily connections to 1000 destinations across 21 different countries, teams use JIRA, Confluence and Bitbucket to develop their website and mobile applications, and Trello to keep their business teams organized and company running. Find out how their teams use of these tools has evolved to fit their rapid growth and individualized teams needs.
Presentation video
Presentation slides
Hello, Trello! An Insider's Guide
Justin Gallagher
Group Product Manager, Trello, Atlassian
The newest addition to the Atlassian product lineup, Trello, was acquired in January, 2017. Trello is a visual collaboration tool that creates a shared perspective on any project. Trello's boards, lists and cards enable you to organize and prioritize your personal and work life in a fun, flexible, and rewarding way. In this session, you'll walk through numerous example boards to illustrate how you and your team can use Trello to get perspective, see how Trello works with other Atlassian products, and discover the tips and tricks that will help you become a Trello power user.
Presentation video
Presentation slides
How Archimedes Uses Atlassian Tools Across All Teams
Stephan Spenling
CTO, Archimedes Exhibitions GmbH
At Archimedes, we create exhibitions, brand spaces, and interactive installations for science centers, public institutions, and corporate clients worldwide. We embrace a highly integrated development process that covers project lifecycles from conception to fabrication to deployment.
We started by using JIRA for small software projects and over the years increased our use of Atlassian products to the point where they are deeply tied to all our business processes and define a single source of truth for HR, cash flow management, procurement, in-house manufacturing – literally everything from buying the first washer to making our products shine.
In this talk, learn how Atlassian helped us:
find transparency through defined processes
coordinate complex, fast-paced projects
integrate more workflows
balance workloads across different teams
manage thousands of issues every day
Presentation video
Presentation slides
How JIRA Core Helps 300,000 Houses Become Smarter
Helene Lund Engebø
CEO, ReSight
Throughout Europe, energy suppliers are replacing conventional electricity meters with smart meters to modernize and reduce energy consumption. Bringing smart meters into 300,000 Norwegian homes is no easy task, but requires an intricate and labor-intensive process to plan, book, dispatch and run each installation. At ReSight, we've set up JIRA Core to track this process. Learn how we customized our unique workflow, issue fields, screens and schemes. You'll also gain insight into how we enhanced our instance with both custom-made and Marketplace add-ons and how we integrated our back-end systems using JIRA's REST APIs. Lastly, we'll show you how we monitor and report our progress using JIRA Core dashboards. From this talk, you'll walk away with lots of ideas on how JIRA can be used for all kinds of projects outside of software development.
Presentation video
Presentation slides
How Nespresso Uses JIRA Software for Release Management
David Berclaz
Development Manager, Nestlé
Jérôme Wymann
Senior Consultant and Team Leader, Antaes
At Nestlé Nespresso, we've set up more than 15 multidisciplinary and autonomous Scrum teams across several countries to support digital acceleration, and improve our E-commerce platforms and mobile applications.
Learn how JIRA Software and several add-ons help us organize our teams' backlogs, and streamline release management.
Presentation video
Presentation slides
Making Portfolio for JIRA Work for Your Team
Bree Davies
Senior Product Manager, Atlassian
Let's face it. Keeping track of statuses and making sure plans are up to date across multiple teams is a tough challenge. Portfolio for JIRA is an add-on to JIRA Software which does away with the heavy lifting by providing an automatic forecast of your roadmap. But, how can it actually work for your organisation? How do you best set it up for everyone to use; from the team on the ground through to the executive suite? Join Bree Davies, Product Manager for Portfolio for JIRA, as she takes you through the end-to-end steps of creating a portfolio plan. She'll provide various team member perspectives on usage and expectations, plus she'll share some real world examples of how teams of different sizes and styles have used Portfolio for JIRA. You will leave with a solid understanding of how to use Portfolio JIRA with JIRA Software, along with tips and tricks for best practice long-term agile planning.
Presentation video
Presentation slides
Scrum Control or Kanban Agility? You Can Have Both, Using Metrics
Marcio Ghiraldelli
Senior Quality Engineer, Atlassian
Are you someone who runs multiple stable Scrum teams, but is curious about migrating to Kanban? Do you think Kanban might lead to a loss of team control and productivity?
Join me as I first discuss the pros and cons of Scrum and Kanban. Because whichever you choose, it should be for the right reasons. Next, I'll talk about how I used JIRA Software's powerful reports and metrics to migrate three Scrum teams to Kanban, without losing agility or control. I'll highlight some aspects of our migration:
Rituals - How to run metric driven planning meetings and retrospectives in a Kanban oriented team
Estimation - From point estimation to story consistency
Metrics - Fluency and cycle times for estimations
Presentation video
Presentation slides
SecOps, Bringing Agility into Security
Andrew Wurster
Security Intelligence Team Lead, Atlassian
Security threats are all around. Over the past year, Atlassian's Security Intelligence Team has pursued a harmonious state to balance responding to new threats while remaining agile. We call it SecOps.
SecOps is ChatOps, DevOps and SecInt - all wrapped up in one.
We'll show you how our team has created a Security Intel hub, as well as offer a few tips and tricks using our Atlassian products to make security programs work.
Presentation video
Presentation slides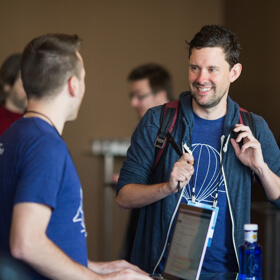 AtlasCamp Sessions
Get best practices and catch up with full session replays from our premier developer conference.
Watch now →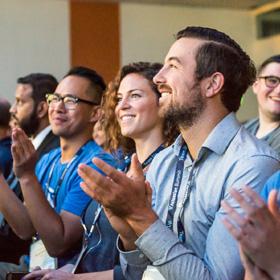 Atlassian Community
What did you think about the Summit sessions? Start or join a conversation in the Community.
Get started →
Stay tuned
Be the first to know about Atlassian live events and sign up for special announcements on when Atlassian is coming to a city near you.