Policies
Participation in the Atlassian Certification Program is subject to the Candidate Agreement, the Code of Conduct, and policies & procedures described below.
More information can be found on our FAQ page.

Resources
Refund and rescheduling policies
To avoid late rescheduling fees (detailed below), reschedule up to 72 hours before your scheduled appointment for a proctored exam in a Kryterion Testing Center, and up to 24 hours before your scheduled appointment for an online-proctored exam.
Exam fees paid to Kryterion using a credit card are fully refundable up to 72 hours before your scheduled appointment for a proctored exam in a Kryterion Testing Center, and up to 24 hours before your scheduled appointment for an online-proctored exam.
Plan ahead, because you must reschedule online using a computer. At this time, rescheduling using mobile devices is not supported. Log in to the Atlassian Certification Portal to reschedule.
When you reschedule late, Atlassian must still pay for your original exam appointment. For this reason, within the 72- or 24-hour window these late-rescheduling policies apply:
To reschedule a proctored ACP exam within 72 hours of the appointment, you will need to pay an additional USD $150 fee.
To reschedule an online-proctored Badge exam within 24 hours of the appointment, you will need to pay an additional USD $75 fee.
The fee will be assessed each time you reschedule within the late-rescheduling window.
If you cancel late, a fee of USD $150 will be withheld from your refund.
Exam fees paid to Kryterion using a voucher are fully refundable up to 72 hours before your scheduled appointment for a proctored exam in a Kryterion Testing Center. If you cancel, your voucher is restored and you can use it for a new appointment. If you cancel or reschedule late, you will need to pay an additional USD $150 fee.
Prohibition on sharing confidential information
As further set forth in the Candidate Agreement, all tests (including questions, answers and related materials) and any other information disclosed by Atlassian that is marked as confidential or proprietary is Atlassian's confidential information and may be not shared, disclosed or reused. Prohibited activities include using or contributing to "brain dumps".
As further set forth in the Candidate Agreement, violation of any of these Program Policies can result in your suspension from the Atlassian certification program, revocation of your Atlassian certifications, notification to your employer and/or law enforcement, and/or other disciplinary actions as Atlassian deems appropriate in its discretion. Violation of these Program Policies will result in the forfeiture of all fees paid under the Candidate Agreement, and may result in additional fees due for services rendered.
Day of test: arrival times, acceptable identification, test authorization code, personal belongings
Make sure to arrive on time for your appointment. If you arrive late, the Test Center might not be able to accommodate you and you could forfeit your exam fee.
You must present two forms of identification at the Testing Center.
One must be a government-issued photo ID that bears your signature.
Using a passport is strongly recommended if you are taking a test outside your country of residence.
When you register for an exam at a Testing Center, Kryterion emails you a Test Taker Authorization Code. The code secures the exam so that only you can unlock it. You must take the code with you to the Testing Center, otherwise your exam may be delayed while you obtain the code again from Kryterion.
You will be asked to place all of your personal items, except your identification, in a locking cabinet or compartment. Personal belongings include bags, purses, keys, wallets, hats, briefcases, books, cell phones, calculators, portable electronic devices, watches and any weapons or firearms. We recommend leaving any item not needed for testing at home.
Scored and unscored questione
Your exam may contain unscored questions in addition to the scored questions, so the total number of questions that are presented to you may be greater than the number shown on the exam page. This is standard testing practice.
You will not know which questions are unscored.
If your exam contains unscored questions, the time allowed for the exam takes into consideration the time you will need to answer all questions and review your work.
Your exam results will reflect your performance on the scored questions only.
Atlassian exam voucher use policies
These policies apply to all purchasers and users of Atlassian Exam Vouchers.
Vouchers are purchased or obtained from Atlassian as advance payment for a specific Atlassian exam registration. Upon registration for the exam with Atlassian or our testing partner, the voucher value is applied to the exam fee.
Each voucher has an expiration date, specified at the time of purchase, and must be used to complete the specified exam on or before the expiration date. Expiration dates will not be extended, and expired vouchers have no value and will not be replaced. Note that proctored exams must be scheduled in advance.
All purchases are final. Vouchers cannot be canceled, refunded, exchanged, replaced or used in combination with other offers. Vouchers are not redeemable for cash. Atlassian is not responsible for lost or stolen vouchers.
You may not transfer or resell vouchers.

There are two exceptions: (1) If authorized by Atlassian, our Atlassian Partners may resell vouchers to exam takers. (2) Companies that are Atlassian customers may purchase vouchers to distribute at no cost to their employees. Use of such vouchers remains subject to these policies.

Participation in Atlassian's credentials and testing program - including use of vouchers - is also subject to the Atlassian Candidate Agreement.
Any voucher that Atlassian determines to be modified, counterfeit or received or used in violation of these policies or the Atlassian Candidate Agreement is void. Among other disciplinary actions, Atlassian may cancel any exam registrations (or exam results or credentials) obtained using such vouchers, without liability to you.
Exam retake policy
You must wait 7 days to re-register for a failed Atlassian exam.
Failure to adhere to the waiting period may result in nullification of your exam results.
The retake policy applies in all circumstances, including cases where the first exam experience was unsatisfactory to the candidate due to an issue with test delivery. For this reason, we advise you to plan carefully if you have a specific deadline by which you need to earn your credential. This is particularly important when planning a maintenance activity to keep your Certification from expiring.
Score appeals
In general, Atlassian does not accept appeals of exam scores for any reason.
The only exception is a case where you can identify a true error in a specific exam question, where the error caused you to miss a deserved point and earning that point would have placed you at the passing score.
Changes by Atlassian to Exam Topics, Passing Score, and Exam Time can be made with limited or no notice and are not sufficient grounds for appeal.
Requirement to display the URL for your credentials
Sharing your credentials to LinkedIN, Twitter and Facebook from the Certification Portal automatically provides a live link to verify your credential, as does sharing your Transcript in badge mode or adding your digital badges to your email signature.
For platforms such as your website, when you display your credential title or logo, you must provide viewers with the URL to the Verification Window.
This requirement protects the value of your credential by ensuring that viewers can always verify Atlassian credentials with Atlassian in real time.
Obtain your credential's URL from the Certification Portal and link it to your credential in one of three ways on your website or online CV/resume:
Display your credential title with an HTML link to your credential's URL: Atlassian Certified Confluence Administrator
Display the logo adjacent to text such as "Click here to view my credential."
Display the logo for your credential encoded with an HTML link to the credential's URL, so your credential's Verification Window will be displayed when the viewer clicks the logo: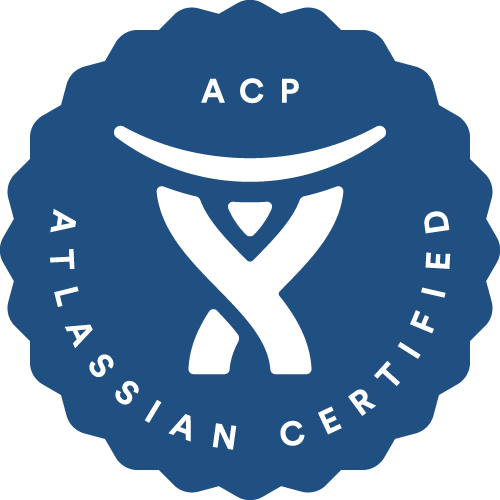 Restrictions on residents and nationals of export restricted territories
In accordance with U.S. trade laws and regulations, individuals residing in the embargoed territories of the Crimea region of Ukraine, Cuba, Iran, North Korea, Syria, and Sudan are prohibited from testing with Atlassian. Accordingly, the following conditions apply:
We cannot directly or indirectly accept payment from, nor directly or indirectly deliver exams to candidates residing in export restricted territories.
We cannot directly or indirectly accept payment from, nor directly or indirectly deliver exams to candidates who are nationals of export restricted territories, wherever located.
We cannot directly or indirectly accept payment from, nor directly or indirectly deliver exams to candidates who are on any U.S. Government export restricted or prohibited parties lists.
If anyone registered for an exam arrives at the test center with an ID from an export restricted territory, the candidate will be turned away and forfeit the exam fee.
Maintaining your certifications
Your Certifications are issued with an expiration date 18 months after they are awarded, and it's critical that you plan carefully to ensure that you perform a maintenance activity and earn a related Badge before your Certification expires. The maintenance requirements are simple and easy to understand:
ACP Certifications
ACP Certifications are initially Active for 18 months.
You will extend the Active period of your ACP Certifications by earning related Atlassian Badges.
If you do not extend your Certification before the Active period ends, your certification will become Suspended. Suspension is a 3 month grace period and your last opportunity to extend your credential.
If you do not extend your Certification during the Suspension period, your ACP Certification will expire. After this, you can earn it again only by passing the ACP exam.
As long as you hold a related ACP Certification, your Badges will remain Active as well.

Atlassian skills badges and Atlassian certified badges
Once you've earned your ACP Certification, you are eligible to earn related Atlassian Skills Badges and Atlassian Certified Badges.
Every Atlassian Badge you earn extends the Active period of the related ACP Certification(s) by 18 months from the Badge completion date.
If you earn a badge during 90-day Suspension period, your Badge will extend your Certification by 18 months from the Suspension Date.
Your Badges will stay active as long as you maintain a related ACP Certification in Active status.
Your Badges will expire permanently if you let your related ACP Certifications expire.
Code of conduct
When you become Atlassian Certified you join an elite group of highly skilled professionals who are recognized and endorsed by Atlassian. As a member of the Atlassian Certified community, you have a responsibility to maintain the value, credibility, and elite nature of Atlassian Certifications and Badges.
I WILL
Conduct and comport myself professionally when acting in my Certified role.
Continue my efforts to gain knowledge and refine my skills in working with Atlassian technologies and solutions.
Act as a mentor to those around me who are working with Atlassian technologies and solutions, helping them become more skilled and capable in their roles.
Do all that I can to protect the integrity of the Atlassian Certification Program.
I WILL NOT
Cheat in any way on an Atlassian Certification Program exam or assessment.
Compromise exam content by sharing exam questions directly or indirectly with other candidates or potential candidates.
Misrepresent myself as a credential holder when I have not completed or maintained the requirements for any Atlassian credential.
Share content or knowledge that might compromise the value of any Atlassian credential.